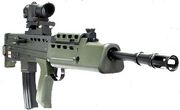 Place of Origin: UK
Type: Assault Rifle
Calibre: 5.56x45mm NATO
Muzzle Velocity: 940 m/sec
Rate of Fire: 610-775 rds/min
Length: 785mm
Barrel: 518mm, 6 grooves, right-hand twist
Weight: 3.82kg empty. 4.98kg with loaded magazine and sight
Operation: Gas, Selective Fire
Magazine: 30-round box
In service: 1985 - Present
Used by: UK and Jamaica
Varients:
L85A1, L85A2, L86A1, L86A2, L22A1, L98A1, L98A2, PL-85, LEI SA80
The SA80 was the efforts of the United Kingdom to produce a new light weight, modern rifle for frontline troops. The Development of the L85 began in 1972 and was originaly built at the time to take the 7mm calibre round. The weapon began Nato trails along with the cartridge and to see the future of the NATO round. This resulted in the adoption of the 5.56mm round by all NATO forces and the weapon system was adapted by Enfeild to use the now cartridge. This was mostly an easy task as the weapon was designed to have its calibre changed as the design staff planned ahead for the cartridge change and a few modifcations to the weapon resulted in it being introduced in the British Army service in 1985.

The rifle replaces the L1A1 SLR (FN FAL) for the British Army in 1987 and spawned varients like the L86 Light support Weapon, L98 cadet rifle and many more. The weapon system uses a Bullpup design which allows for a smaller weapon but the same barrel length and stemed from the EM-2 made by Enfield at the Royal Small Arms Factory in the late 1940's but was a different weapon system to the L85.
DevelopmentEdit
The SA80's core design dates back as far as the 1940's with the EM-1 and EM-2. These systems where a lot different to the current SA80 system but shares common features. These new 7mm where discontinued when NATO introduced the 7.62x51mm as there standard round. This meant that the British Army Adopted the7.62mm FN (or L1A1 SLR under license from FN's FAL)
ProductionEdit
AccessoriesEdit
ModificationsEdit
Varients
Edit
L85A1 and L85A2Edit
The L86 was a modification of the original L85 to be suited as an LMG model. Modifications included a longer barrel with its own complimentary bipod. It was plauged with as many problems as the original rifle, especially when fired in full automatic which was the guns main purpose. Instead of a squad assault weapon it has been cconverted to a light sniper rifle because of the weaons outstanding accuracy. all concepts of the L86 are the same as the original rifle other than its obviouly larger barrel
L98a1, L98a2, PL-85 and LEI SA80Edit
Jamiaca
United Kingdom
Video Games
Edit
Battlefield 3
Edit
References
Edit
External Links
Edit