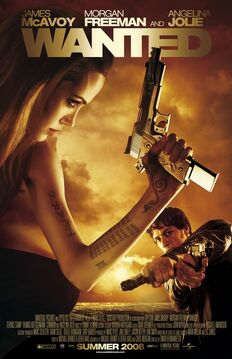 Wanted is the 2008 high-octane action film directed by Timur Bekmambetov. It stars James McAvoy as Wesley Gibson, Angelina Jolie as Fox, Thomas Kretschmann as Cross and Morgan Freeman as Sloan.The main plotline consists of: A frustrated office worker learns that he is the son of a professional assassin, and that he shares his father's superhuman killing abilities. Wanted 2 has recently been put back on Universal studios' front burner again, though Angelina Jolie has said she will not be rejoining the cast in the sequel. James McAvoy's future involvement is yet to be seen.
Custom Beretta 92S
Edit
Wesley's weapon of choice is a custom Beretta 92S. it belonged to his father and was given to him by Sloan. He uses this throughout the entire movie.it has a compensator and ornate grips. the last place this weapon resides is under the seat of a garbage truck. the funny thing about this weapon is in the wanted canon it is an "Imanishi 17" not a beretta 92s.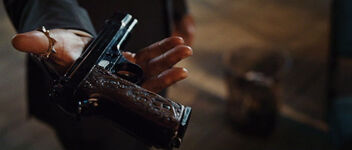 Custom Safari Arms Matchmaster
Edit
Fox's Weapon of choice is a Custom Safari Arms Matchmaster. It is heavily customized with a compesator, extended magazine and ivory grips with tattoo engravings all over the body. The official description of this weapon is : "Fox's weapon of choice is a custom .45 caliber SAFARI MATCHMASTER semi automatic pistol. Although she prefers its lightweight versatility, she is a virtuoso with any firearm which exists".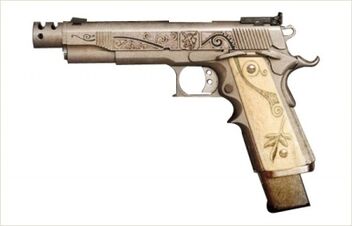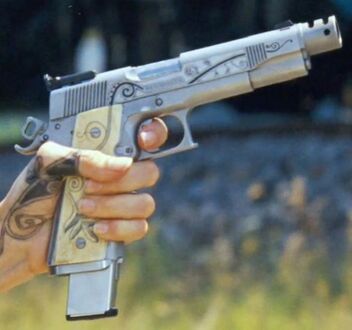 Custom Flintlock Pistol
Edit
Mr. X carries a flintlock pistol with him and uses it during the rooftop battle with the "decoy" assassins.. it is heavily customized and mocked-up to fire multiple shots with a magazine.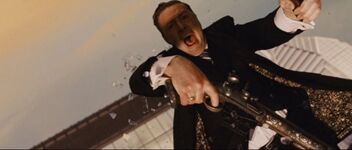 Mauser C96 Broomhandle - M712 "Schnellfeuer"
Edit
Sloan Uses a Mauser C96 as his weapon of choice . however he is only seen with this pistol during the end scene of the movie. However he is photographed aiming it at Wesley in a production photo (Below). this could have been a delted photo or a re-take. It has custom ingravings on the box magazine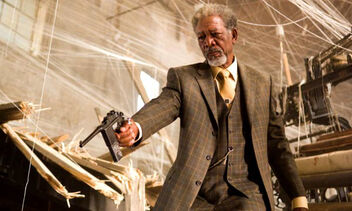 Heavily Customised jezail Sniper Rifle
Edit
This sniper rifle is used in two of the best scenes in the movie. it has a Telescope attatchment to see such a long distancet. it has a city length range due to the special Transforming Round it fires. it is used by Cross and Wesley. it is the opening and Closing weapon of the film. it has similar decorations as the Flintlock pistol used by Mr. X. That scene is so good however that a video is the only way to show it.
Community content is available under
CC-BY-SA
unless otherwise noted.